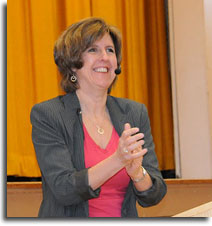 Inner Coaching programs for choruses are customized to meet the unique needs of each chorus. Chorus sessions focus on the themes and principles that will create a chorus culture based on the Appreciative Approach, which helps create the best environment for learning, growth, joy and possibility, and leverages peak performance potential.

"Rehearsals are more productive, improvement is more permanent, and all of it happens in an atmosphere of mutual support, respect and FUN!" - Bobbette Gantz, Master Director, Channelaire Chorus(retired)
Chorus sessions are customized and take chorus members through a series of experiential exercises that move them through many of the inner coaching concepts such as the power of intention, focus, eliminating limiting beliefs, connecting energy, elimination of the interferences that act as a barrier to peak performance, chorus unity and core beliefs, silencing of the inner critic, the power of acknowledgment and more. More comprehensive weekend retreats can include deeper visioning, team-building and possibility-creation activities.